As cases surge across the country, the public believes the likelihood of stay-at-home orders is high and nearly half support a nationwide four- to six-week lockdown to help stop the spread of coronavirus. Financial security is concerning for a majority of the public and a sense of financial hardship is on the rise, particularly among younger generations, Hispanics, and Blacks. Following are some of the key storylines from our tracking data:
Division Continues: Americans remain at record high levels of thinking the pandemic is "driving us apart."
Public Health Impact: Perceptions are increasing that the state of public health is poor or in crisis.
Support Outweighs Opposition for 4-6 Week Lockdown: Nearly half of the public supports a nationwide lockdown to help stop the spread of the coronavirus. Support increases to over half if the government provides support for lost wages and small business revenues.
Financial Hardship is Rising: Over half of the public has delayed/reduced spending, a third reports a negative impact on savings and about one-in-five have had a work-related impact. Gen Z, Millennials, Hispanics, and Blacks are particularly hard hit with financial challenges and far more likely than other groups to report receiving aid and having to cancel services over the past three months.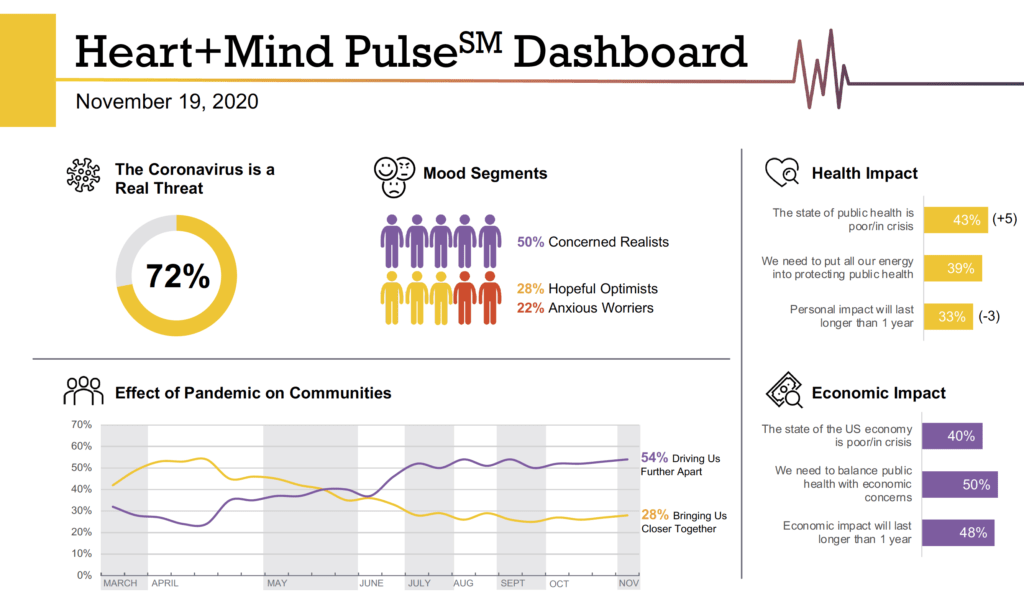 ---
Our reports with the latest tracking data, charts, and storylines from our biweekly national omnibus survey, the Heart+Mind Pulse, can be downloaded using the following links:
Data Source: Heart+Mind Strategies fielded a series of questions 11/18-19/2020 via an online survey.
Sample: n=1,007 US Adults 18+
Topics: We explored attitudes, feelings, and actions with respect to the COVID-19 crisis and recent presidential election. This provides a quick look at the key storylines we uncovered by quickly digging into the data set.