By Bruce Blakeman and Dee Allsop
Successful Regional Visioning and Economic Planning require the engagement and support of the communities involved. There are few things more important to community residents and businesses than the physical area in which they live, raise their children, work, and retire. Unlike other issues people manage every day, their community, downtown, roads, schools, and recreation options are immediately salient to them. Every individual will have their own opinion of how their community should grow, or not grow, according to their personal needs and desires. 
This naturally creates a challenge for regional visioning teams and civic leaders who need to plan for how a community will grow and meet the wants and desires of their constituents today and for the future. It begs the question: how do civic leaders build support for regional visioning and economic planning proposals in their communities?
We have had great success filling this need through our proprietary "values-based" research methodologies that tap into constituents' personal life priorities and values to provide bottom-up answers. Our values-based approach provides a roadmap to what communities want and how to communicate planning options in the most effective way to build support.
Important decisions are driven by things that are most crucial and relevant to us. In other words, what we value. A values approach to regional visioning and planning allows civic leaders to look through the lens of their community's values to guide the formulation and selection of future scenarios in the planning process. It enhances each step of the process by defining shared priorities, needs, core values, and just as critically, the challenges, and placing them front and center.
Leaders must protect and promote the values of their residents and other key stakeholders to build and sustain their hopes and dreams for the future. A regional economic development plan centered on human values will focus, engage, and unify the region's residents, businesses, and leaders behind shared goals for action. Understanding your region's values is key to making better informed and coordinated decisions to protect, promote, and preserve the overall public good throughout the economic development planning, funding, and approval processes.
People will make good choices if presented with real options that reflect their personal values.
Foundational Principles
Regional planning starts with three foundational principles:
Values are key. To be sustainable, a region must satisfy the values, hopes, and dreams of current and future residents.
The power of choice. The "public" has the right to choose its future—public officials should serve the vision of the people.
We believe in people. The "public" will make good choices if presented with real options.
The Values Research Process
The values research process should follow these steps:
Define the goals and objectives of the program.
In-depth interviewing of community members and stakeholders using a qualitative laddering process to peel back the layers of importance of regional features.
Synthesis to identify the most important attributes, the emotional benefits of those attributes, and the driving personal values they feed.
Visualization of a "regional mind map" showing the connection between attributes of regional features and personal values of the residents and stakeholders.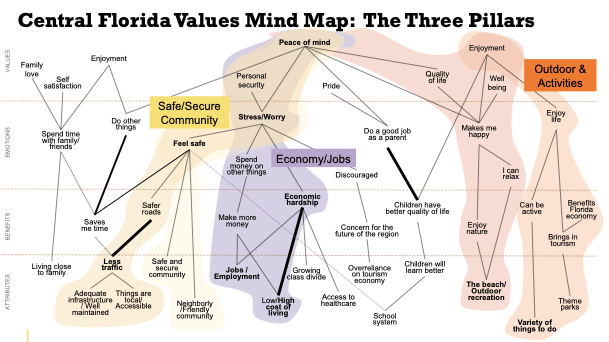 Quantify this understanding against a representative sample of your population, to understand common motivators and how various segments of the population may differ.
Leaders then must distill the most impactful insights from this process to inform the building blocks of a regional strategy and align teams around the tactics that will bring the strategy to life.
Activate Planning
A values-based approach will directly inform regional planning. Leaders face additional needs to build alignment, scenario planning, engage the public, develop communications strategy, and activate the vision. These can be challenging and difficult to manage toward impactful deployment. 
We have found the following are helpful ways into successfully facilitating these critical tasks:
Anchor planning and dialogue on the linked rational and emotional benefits for strategies
Collaboration tools to build group building consensus and alignment on priorities (Heart+Mind uses our Illumination Lab platform)
Periodic stakeholder survey input on needs, opinions, and reactions to economic plans
Scenario planning assessment
Messaging assessment with the intended target audiences
Values Research Can Help You Plan For The Future
Since introducing our values-based approach to regional economic planning in 1997 to Envision Utah, we have helped regions across the country – from booming metropolises like San Diego and Orlando, to rural areas such as Superior, AZ and the state of Wyoming – to formulate values-based visioning strategies and plans for their future.
We look forward to partnering with you for your Regional Visioning and Economic Planning programs. Learn more about our experience.