By Mike Dabadie
"If you're disappointed with the results you're getting, it's not because your expectations are too high. It's because those expectations are not high enough to pull you forward. Don't lower your expectations to meet your performance. Raise your level of performance to meet your expectations. Expect the best of yourself, and then do what is necessary to make it a reality."

— Ralph Marlston
For many, conventional thinking in business (and in some cases, in life) says to lower expectations so that you can manage those expectations better – and beat those lower expectations, not by over-performing, but instead by doing just enough. But conventional thinking is what usually gets a business in trouble down the road and doing just enough is never a winning attitude in business or in life.
The problem with lowering expectations is that it results in sustained poor performance, eventually demotivates employees, causes value to be defined on commoditization, and the customer will begin to associate those lower expectations — yours and theirs — with weak experiences that eventually leads to churn.
In a service industry, there are two important components that underpin a winning business proposition: products and services. In our Office Coffee Service (OCS) work for the National Automatic Merchandising Association, we looked at how consumers and decision makers view their expectations and levels of satisfaction on both products and services. While overall satisfaction is extremely high, expectations are too low.
Interestingly, there are no substantial differences between consumers and decision makers on measures of both expectations and satisfaction for both products and services.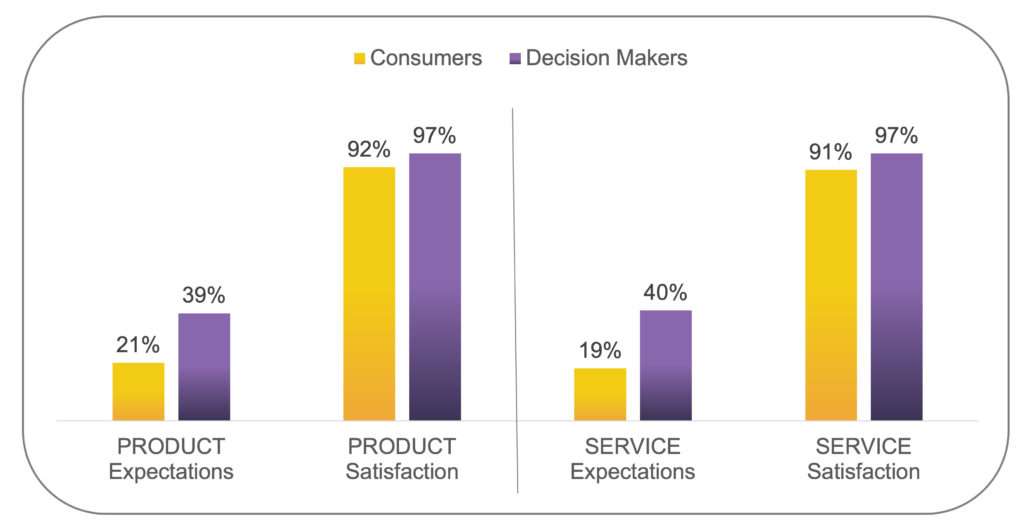 Why would expectations be so low while satisfaction is so high?
Across the OCS industry, the data shows that expectations are this low because owner operators and the industry at large need to better define their offering in a way that aligns with what is causing such high satisfaction. Further, with low expectations there is susceptibility to always selling on price and not on a stronger value proposition. With higher expectations, the upfront sale into an account actually becomes easier and you are not always fighting on price.
How can expectations be raised and what does it mean to do so? Communicate a promise as to what your product and your service offering will deliver. Do this in your marketing and communications. Do this in training of employees. Imbed this thinking into the organization and with your suppliers.
Of course, this all begs the question: if we do raise expectations, can we know that we'll exceed them? Based on the data shown in the chart, the answer is a resounding yes because the industry and owner operators are already scoring so high on satisfaction.
How to Provide Value
The following list represents the most significant areas that we recommended to our OCS client where they could both raise expectations and have a significant, positive impact on account retention and acquisition. As a list of actions, these were specific areas for them to train their employees, have dialogue with accounts, and measure progress. Although this list was specific to the OCS industry, the principles can be applied across industries.
Make helpful equipment recommendations based on the situational needs of an account.
Make helpful product recommendations across coffee, tea, and water so that accounts and consumers know what else can be provided beyond their existing knowledge.
Demonstrate that you understand the personal needs of the individual at an account – from procurement to the office manager to the employees.
Demonstrate that you understand and are knowledgeable of coffee, tea, and water. You are seen as the expert and there is trust in wanting you to provide guidance.
Show that you are thinking ahead and let the account know about changes in the coffee, tea, and water space.
You are not there to just deliver a product. Act as a partner to help an account make better decisions.
Align incentive pay to your employees that encourages them to act as partners or develop an account team that helps to facilitate a partnering mentality.
Get personal and ensure that you know people by name and their interests, but more importantly that they know your employees by name and their interests.
Train employees on the importance of personal appearance and how they should carry themselves when interacting with employees and decision makers. It may sound basic, but this is the blocking and tackling of account management.
Is value selling your product at the lowest price? No.
Is value treating your customer as they would not want to be treated? No.
Is value skimping on quality? No.
Is value lowering expectations so you can beat them? No.

We define value as the totality of the experience one has with your product and service versus their expectations. Value is consistently exceeding expectations – high expectations – in the delivery of your offering. Go with value creation and value selling.
When that is accomplished, the types of outcomes you seek are realized – customer loyalty, employee satisfaction, premium pricing, minimal churn, and an emotional bond with your customer that withstands stressful times in the future.
So if you are looking to improve or to go even higher, don't turn to the easy route and simply lower the expectations you would have of yourself or of others. Mediocrity is a losing formula.
Lift yourself and others to expect – to ask for – greater.
Curious about how your business can provide value to your customers? We can help. Contact us to learn more about providing value in a way that allows you to champion the human.
---
ABOUT THE AUTHOR
Mike Dabadie has spent the past three decades using the disciplines of market research, brand strategy, reputation management, communications, and marketing to help clients meet their objectives. He is the Co-CEO and Managing Partner of Heart+Mind Strategies, a Washington, D.C. full-service strategic research consultancy that he co-founded on the vision of advancing human values-based research methods. Before founding Heart+Mind Strategies, Mike spent more than a decade with WirthlinWorldwide, was the CMO at Community Coffee Company, and ran the Brand Strategy group at Harris Interactive as its President.
Brands that Mike has helped to position and reposition include AARP, the American Red Cross, Community Coffee, Flavia, Paychex, Visa, Zyrtec, and Las Vegas. An emerging trend is the use of online communities as a research platform and co-creation as a methodology. Mike leads Heart+Mind Strategies' work in these fast-growing areas, launching the first and only online community of U.S. social science trend spotters.