We might be facing a divided federal government over the next two years, assuming Republicans can pick up one of the chambers of Congress in the midterm elections coming up in November. Our nation has already felt strong societal and political division over the past few years, so what are the potential complications of this likely gridlock? To many, it suggests we can expect very little progress from our federal government on critical issues — and this comes at a time when most Americans already feel dissatisfied with the job our federal government is doing today.
According to our August Pulse survey, 67% of registered voters are not satisfied with the federal government, and most are significantly more satisfied with their state (50%) and local governments (56%). With so many Americans untrusting of our federal government, does this disparity mean there's a window of opportunity for state and local governments to fill a need over the next few years? Does it make sense for state governments to take action on important issues that would otherwise get stymied in Washington?
We met with policy experts Erin Norman, Senior Messaging Strategist at State Policy Network, Lori Parham, Senior Advocacy and Policy Director at AARP, and Bruce Blakeman, Policy + Issues Practice Lead at Heart+Mind Strategies, to discuss how organizations can plan to navigate this time of partisan division in society and in our federal government.
Related: Federalism is Alive and Well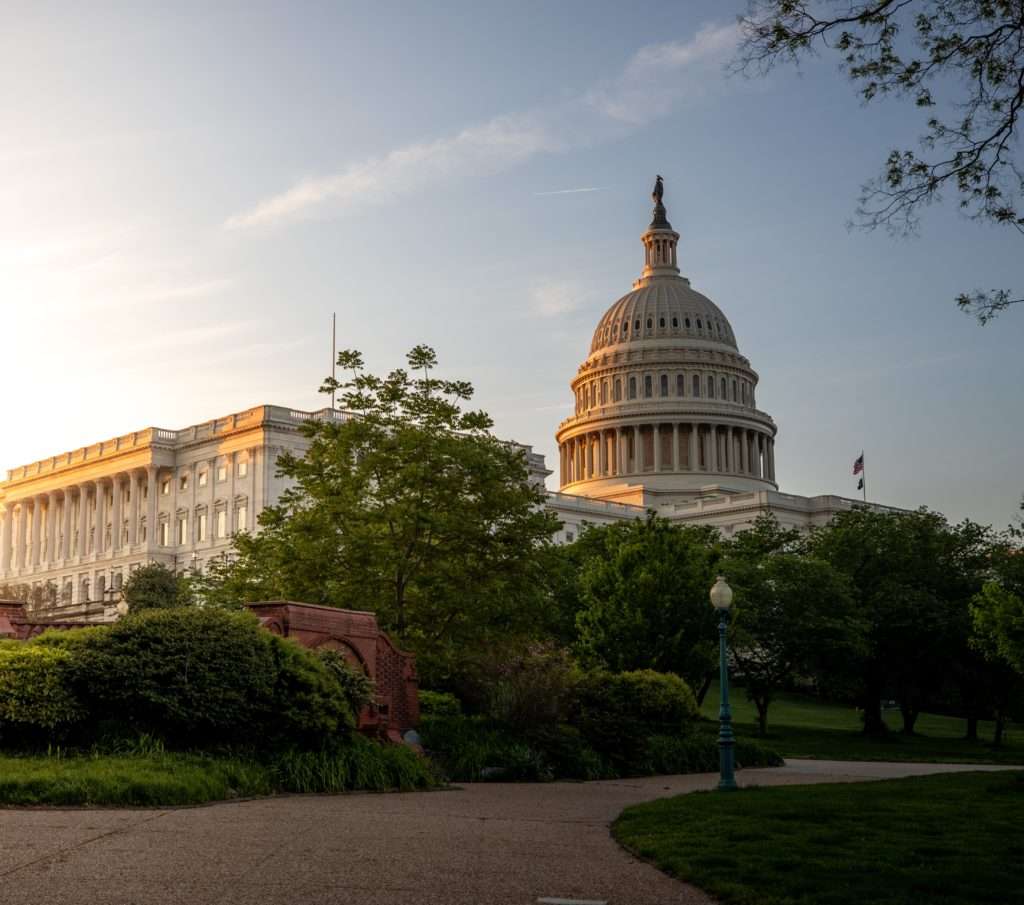 What to Expect in the 2022 Midterm Elections
It's important to understand the context of the election landscape as we head into the midterms — how do voters feel about the current state of the nation? What are the top issues? How can candidates cater to their constituents by tailoring their campaign messaging? Will fewer COVID restrictions — such as the wider mail-in ballots used in 2020 — impact voter turnout? These are important questions to keep in mind as we discuss the potential ramifications of this midterm election.
As we head into November, 70% of Americans believe the country is seriously off on the wrong track. With President Biden sitting at a below 50% approval rating, this comes as no surprise. At the state level, fewer feel their state is on the wrong track, albeit still just over half. High dissatisfaction will motivate voters to get to the polls, which could lead to a higher voter turnout than is typically seen in midterm years.
According to our research, the most important issue across the country is overwhelmingly addressing inflation. This is followed by improving healthcare and healthcare costs, lowering taxes, creating stronger gun control laws, and abortion/Dobbs decision.
Erin Norman is a Senior Messaging Strategist at State Policy Network, a nonprofit and nonpartisan organization that serves as a network for think tanks focusing on state-level policy. Erin is guiding SPN's communications strategy and messaging on federalism. She has spent the last 17 years in market research, branding, and messaging work in corporate America and public policy.
Norman explained one very unique dynamic this midterm is the growing importance of state and local races. For example, in Georgia, 20% of the state legislative seats are open with retiring incumbents, leaving them completely up for grabs — as well as highly visible races for governor and US Senate. The high number of open seats presents the opportunity for significant shifts in the state government – and this is happening in other states as well in the current political environment.
Lori Parham has been involved with advocacy work at AARP for nearly 18 years in multiple roles. Since early 2021, Parham has been the State Advocacy and Policy Director, overseeing the organization's advocacy efforts to look out for the needs and interests of the 50+ state-by-state across the country. AARP is a nonpartisan nonprofit that focuses on issues affecting those over the age of fifty.
Parham noted that in their polling, even as divided as we are, AARP has consistently seen that a majority of voters would rather see their elected officials compromise and come to an actual solution on key issues — instead of standing firm and refusing to find common ground, stalling progress. She says this is shaping the mood of the electorate as well.
"Folks feel very strongly that we've got to do more to move the needle on key issues instead of just putting a line in the sand and saying we're not going to move," Parham said.
Related: Finding Common Ground
The Role of State Government
Amid a divided government, the potential for progress on key issues will be slowed or even nonexistent at the federal level. State and local governments can step up, and are stepping up. to fill the need. We expect them to continue leading the way on important issues for the next two years.
"A lot of where the progress can be made is at the states," Norman said. "You're seeing that in some of the economic issues and how the current situation is really impacting people in a way that is not reflected in the headlines, that's not reflected in the election coverage — and there are a lot of stories to tell out there. There are also a lot of stories to tell about how states are stepping up in the absence of federal action.'
Norman offered the Inflation Reducation Act as an example. This bill — which was supported by many members of Congress and signed into law by President Biden in August — is supposed to help protect Medicare recipients from catastrophic drug costs by establishing a cap on out-of-pocket costs and on insulin. However, most people, including Democrats, don't believe this bill will reduce inflation or do enough to improve the economy.
Contrast that, Norman explained, with some things that states are doing like updating zoning regulations to increase housing supply and lower the cost of housing. Other states are cutting certain levels of bureaucracy to make it easier to start a business. These kinds of red-tape regulations may seem small or not as important when compared to the loftier goals of the federal government, Norman shared, but ultimately she believes they will be more impactful on the economy at a local level.
"It's obviously important what happens in Washington and who is in those seats, but the idea that everything hinges on one or two Senate races really ignores the fact that the states can and will do a lot at a more local level," Norman said. "Increasingly, you have a Supreme Court that is encouraging them to do more at the local level. I think, especially in the next two years, you're going to see a lot more happening at the state level and groups that are involved in public policy, or want to influence public policy, are probably going to be more successful at that level than they are at the federal level."
Norman also said the federal government's lack of action on certain issues – like education, largely because of political infighting — can set up state governments to take charge. These kinds of things are happening across the country and will have more of an impact on people's day-to-day lives than some of the bigger races that get all the media hype.
Organizations seeking progress on critical issues facing their success should consider when and how to approach state government leaders to realize meaningful changes. While this introduces complexity with diverse approaches across the country, it is closer to where impact and common sense collaboration is more likely to happen today.
Finding Common Ground
In our view, the most important takeaway, however, is the importance of finding common ground. To push back against the division in our country, organizations and leaders should focus on what we have in common, instead of driving ourselves further apart with our differences. Even our founding fathers had different ideas of how the country should be run — but they still realized that we share common values above all.
"We have been doing quite a bit of work to dig into this idea of divided America," Norman said. "The more that we look at, the more it seems like a lot of that is media narratives. We have very strong political disagreements as a country, but there's a lot of evidence that says the values, the things that we hold dear to us, are the same. That's kind of the whole idea of how the country was founded — that we have common values that bring us together, while different groups, regions, colonies, states have very different ideas about politics and what matters in day-to-day life…It's important to make sure that people remember we have more in common than not."
Parham explained that one of AARP's strategies is to lean into the common ground to facilitate dialogue with leaders on both sides of the partisan aisle even more at the state level. The task is identifying those issues and moving ahead to engage.
"We really do have a set of issues that are across the spectrum," Parham explained. "We do see a place at where we can show up and especially as we look at those top priorities, we can weigh in from a consumer perspective and be having those conversations with legislators or governors on both sides of the aisle."
Prediction for Surprising Post-Elections Headlines
What could be the most surprising headlines we see on November 9th? We asked our speakers to give their expectations on what results we might see coming out of Election Day.
Blakeman: "I think Republicans will end up with 10 or 15 seat majority, so the headline might be about Nancy Pelosi announcing her retirement."
Norman: "I think one of the most interesting things is going to be the shifting Latino vote. There's been a lot of work done on that going back as far as 2016, and then the change from '16 to '20 — and how that's going to move forward, especially with the economy as the number one issue. That's what I'm probably most interested in digging into come November 9th."
Parham: "I think what I found interesting in our state polls, as we looked at the breakdowns for the Hispanic Latino audience and African American audience, is how some of those other, more contentious issues did pop. The question for me is how they could impact some of these state races. I think there could be an interesting story there. I also think that the 'She's the Difference' polling, and the importance of women, the economic issue, the abortion issue — I don't have a good prediction — but I think that there could be some interesting results from that."
---