Key trends:
The pandemic has opened the door to previously unthinkable approaches to the workplace
There is a great equalization ahead as employees and employers "re-negotiate" the meaning and nature of the mutually beneficial "employment contract"
Flexibility is paramount moving forward
This is a complex issue of space, culture, and technology that will require emergent creative solutions before we settle into a new workplace paradigm
An AI-driven metaverse will be a technological part of the longer-term solution
---
The COVID-19 pandemic forced many to work from home, shifted work communications to digital platforms like Zoom or Teams, and moved collaboration to channels other than face-to-face interaction. It also has been the catalyst to rethinking expectations and long-held paradigms of how, where, and when work gets done.
We are experiencing seismic shifts in the culture and practice of work today.
These dynamics mean business leaders have to rethink the role of physical office space vs. working remote in an era in which their staff simply want options. Leaders are trying to find a workplace solution that fits their organization. The problem is there's no "One Size Fits All" – what works for one company might not work for another.
So how do you find your answer?
We tackled this topic at our May Heart+Mind Connections session with Daniel Davis, who led WeWork's insights and design research for almost four years and now leads design research at architectural firm Hassell, and Mark Purdy, managing director of independent advisory and thought leadership firm Purdy & Associates. Together they shared the trends and dynamics informing the various models that organizations are developing for a new approach to the office.
Leaders at Argonne National Laboratory, agency GMMB, and AARP also shared the lessons they've learned in pursuing their journey to a solution.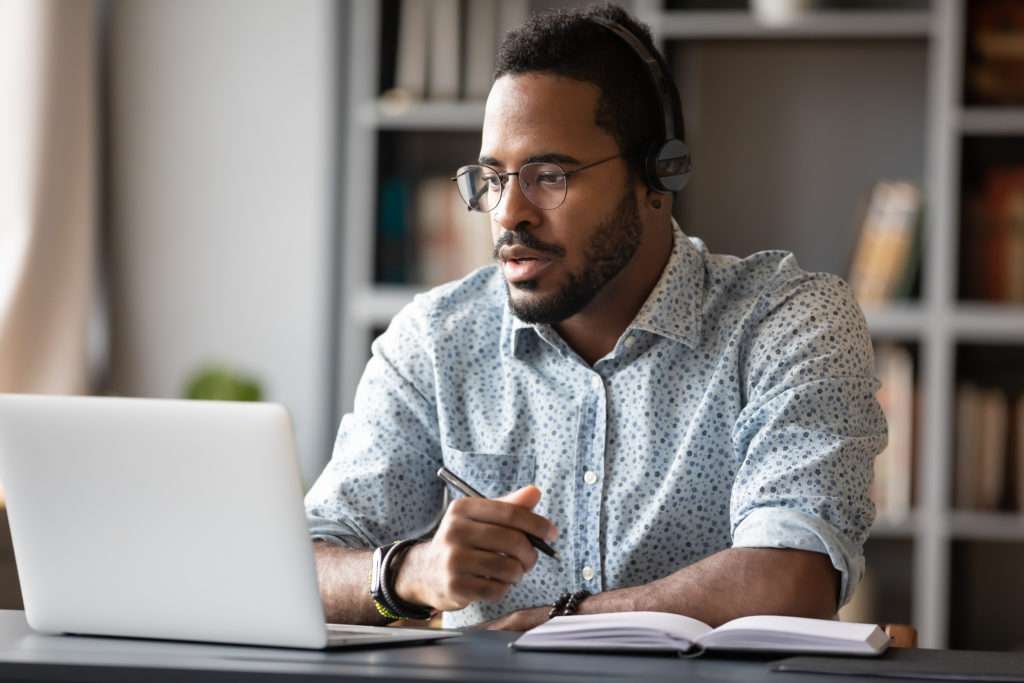 The State of the Workplace – Exploring New Models
The workplace landscape – where, why, and how we work – looks drastically different than it did pre-pandemic, with almost half of all employees working remote at least part time: 33% of workers currently work fully remote with another 15% working on a hybrid schedule. Most remote workers report being more productive, have a better work-life balance, and are mentally, emotionally, and physically healthier. What seemed unthinkable two years ago is now the norm, and business leaders can't rely on old assumptions about how jobs get done.
Though half of all workers prefer remote work, working from home has unique challenges. Technology was able to fill the need for virtual meetings and communication, but it's almost impossible to replicate company culture and camaraderie in a remote setting. This often leaves employees feeling disconnected from their co-workers and company.

Davis believes the pandemic is driving a redefinition of "work" and "culture," digital transformation, demand for flexible hours, enabled mobility, and experimentation with space typologies. These trends mean business leaders are exploring at least five different office working policy models, according to Davis, with varying roles for the office vs. hybrid solutions.
Mostly Hybrid
Clubhouse: 17% would prefer this variation on the modern office that incorporates broad amenities with an open layout.
Turbocharged ABW: 26% would prefer a shared space, with higher sharing ratios than a traditional activity-based working (ABW).
Mostly at Office
Hub and Spoke: 16% would prefer a workplace that enables a centralized "hub" for people to come together, while also providing the choice to work from "spokes."
ABW: 11% would prefer activity-based working, or a work style that allows employees to choose from a variety of settings according to the nature of what they are doing.
Static and Central: 17% would prefer a traditional office workplace.
No Office
11% would prefer to work from home
Hassell's national research shows workers also want flexibility for when they show up at work if there is an office involved. Most would prefer to spend Tuesday-Thursday in the office, which presents a major challenge, as Davis noted: "It's not particularly efficient to have an office that's empty four days of the week, so how can you create an office space where people want to come in for more of the work week?"
What creative solutions will emerge as designers work with future-oriented leaders of organizations to accept this challenge and explore these models?
Related: COVID-19, The Great Unveiler and Amplifier of Human Needs
Employees Want the Power to Choose
The pandemic triggered reconsideration and reprioritization of work-life balance, as employees found that working from home offers flexibility that you just can't get when working in an office. And now more than ever, workers are willing to ditch their companies over workplace flexibility – 64% of U.S. workers said they would consider leaving a job if they were forced to return to office. But the issue is not having a choice – Davis also shared data showing employees forced to work from home are 1.5 times more likely to quit.
For business leaders making the tough decision about their workplace, it's important to listen to the needs of your employee. Giving people in appropriate positions the choice to work in office or remotely, instead of mandating it, can be a powerful tool.
"[When employees] have flexibility to choose where they want to work, they're much less likely to be thinking about quitting their job than people who are forced into either of these two extremes – of either working full-time in the office or working full-time at home," Davis said. "There's this change in the industry where employees are really demanding a lot of flexibility, a lot of autonomy in their work. They have a lot of power in the marketplace at the moment, and they're using that power within that marketplace to really push for this."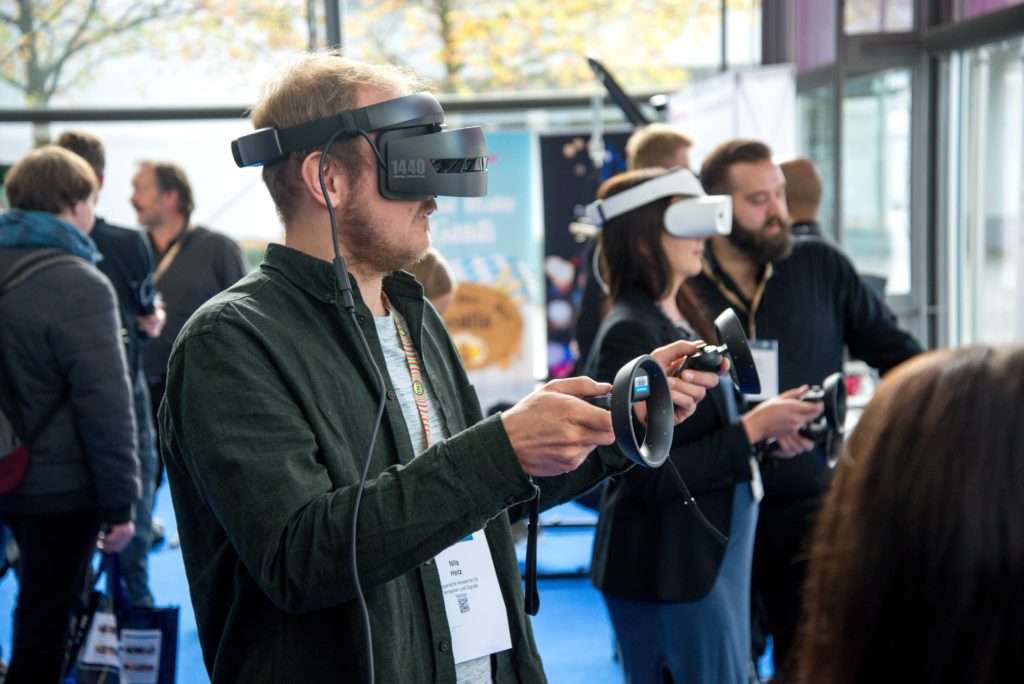 Metaverse: The Workplace of the Future?
But what about…virtual office space? Is there an AI-driven, virtual reality world that creates immersive work environments – all without taking a step outside your front door?
"We shouldn't be surprised that every technology that comes along changes the why, what, where, and how of work," Purdy said. "If we look at the technologies that we've got now – machine learning, virtual reality – these technologies are so powerful that it's simply unavoidable that they're going to have a really transformative impact on how we work."
A metaverse option promises advantages: space for more spontaneous collaboration, better interactive training opportunities, and AI-enabled assistance. Digital avatars can meet in a virtual office space to prompt more collaboration. Training is the most immediate application emerging—medical students can train on 3d anatomical models instead of just reading from a textbook. A digital AI can help complete tasks to take some things off your to-do list. Though it might sound futuristic, a metaverse will be an experimental part of the solution for a more sustainable hybrid model of working. And it is not as far off as it might seem.
Related: The Future of In-person Business Events
Lessons Learned From Three Very Different Organizations
Leslie Krohn, Chief Communications Officer at Argonne National Laboratories, Annie Burns, Partner at GMMB, and Debbie Armenti, Senior VP of Business Operations at AARP, shared how they're handling the tough decision about the future of their workplaces.
An obvious consideration is the complexity of the available options as not everyone can work from home. Nurses, scientists, police officers, government workers – many professions are very physical in nature and have the need for office space or in-person work. Krohn explained the first step for Argonne was to acknowledge the reality of their organization with 3,500 full time employees and 10,000 other part time workers and partners spread across four physical locations.
"It was a big revelation from my leadership to understand that there is an aspect of physicality to our organization and our mission that you cannot turn virtual," Krohn said. "You cannot process nuclear waste, for instance, in your kitchen at home. There are facilities that need sensors and monitors and safety equipment, and it has to be attended by people who are monitoring the monitors."
It is about finding the balance and the solution to fit your customized needs for jobs that can or cannot be done remotely. Argonne classified four categories of remote work: primarily, mostly, occasionally, and rarely onsite. They then deployed a flexible policy aligned to the categories and are working to find the optimal solutions that meet the needs for each.
"People call it the Great Resignation. That's just a symptom of what I think of as the Great Renegotiation, because for every person who wants to be at the office, having personal interaction, the extroverts, the collaborators – there are people who don't," Krohn said. "I think it's so important that organizations can start to say what they offer and pull in the people that match what they offer. That's that Great Renegotiation, and at the end, it's going be a Great Equalization. And people will migrate to those organizations and enterprises that match up with what they value."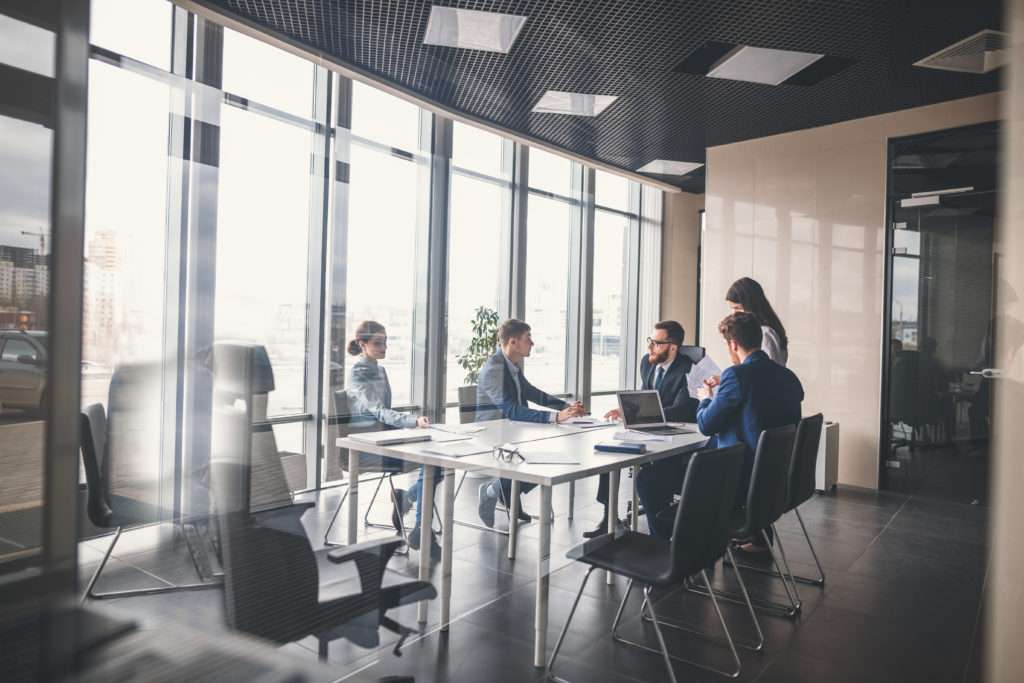 Burns said GMMB successfully pivoted to working from home immediately after the pandemic in 2020, something she attributes to their political campaign heritage. They are now testing a flexible approach with a hybrid schedule of 1-2 days in the office.
"Flexibility is the best thing that we can do to serve everybody well, to serve the people who work here, to serve our clients, to serve the culture, and to serve the firm," Burns said. "We've positioned ourselves to continue to attract and retain the best talent, and so that has meant that we've needed to introduce a lot more flexibility in terms of how we think about positions."
Talent acquisition across the country brings up the question of compensation differences based upon cost of living. However, Burns said GMMB has taken the position at this time that compensation should relate to work, and not location.
At AARP, Armenti said their national office in Washington, D.C. accommodates an in-person workforce of over 2,000. Though they were able to adapt quickly to remote work in 2020, they've since experimented with solutions on a return to office.
"AARP believes in the necessity and magic of in-person interaction and collaboration, even if it can't easily be quantified," Armenti said. "We grappled with what that would look like. We did take into consideration all the knowledge and learnings that we had gained over those past two years… the success that we had working remotely, the personal value our workforce gained from remote work, and the desire by many to never return to the office. The challenge is… collaborating in a hybrid workforce environment."
AARP currently has a hybrid work schedule in place with employees expected to work in-person three days a week (Tuesday-Thursday) and go through a check-in and COVID protocol process. Employees can apply for more remote work for review by their manager.
Armenti says AARP is in a test and learn mode right now with their policies and approach. And she knows they have more to learn! For example, badge tracking data so far at their headquarters building has shown between 20-30% of staff who are supposed to be in the office are unaccounted for at this time. This leaves room for exploration to understand what solutions might need to be developed to allow flexibility while delivering on the organization's vision.
In-person, remote, hybrid – or maybe even a metaverse? The spectrum of workplace solutions will look different for everyone. The key is to identify what your employees need and what's doable for your organization. But the bottom line is: the "great renegotiation" about what work looks and feels like isn't going anywhere anytime soon.
---