Travel Trends
Inclusivity and Diversity
Cleanliness Standards
Sustainability
Desire for Reconnection
Workforce or Labor Shortages
Mobility and How We Travel
---
What does the future of travel look like? Travel looks different today than it did pre-pandemic – face masks, pre-departure requirements, and less flight availability, among others – but what changes are short-term accommodations, and what changes are here to stay?
We tackled these questions in our April Connections session where we heard from travel industry insiders Erik Hansen from the U.S. Travel Association, Scott DeAngelo from Allegiant Airlines, and Kristen James from Expedia Group.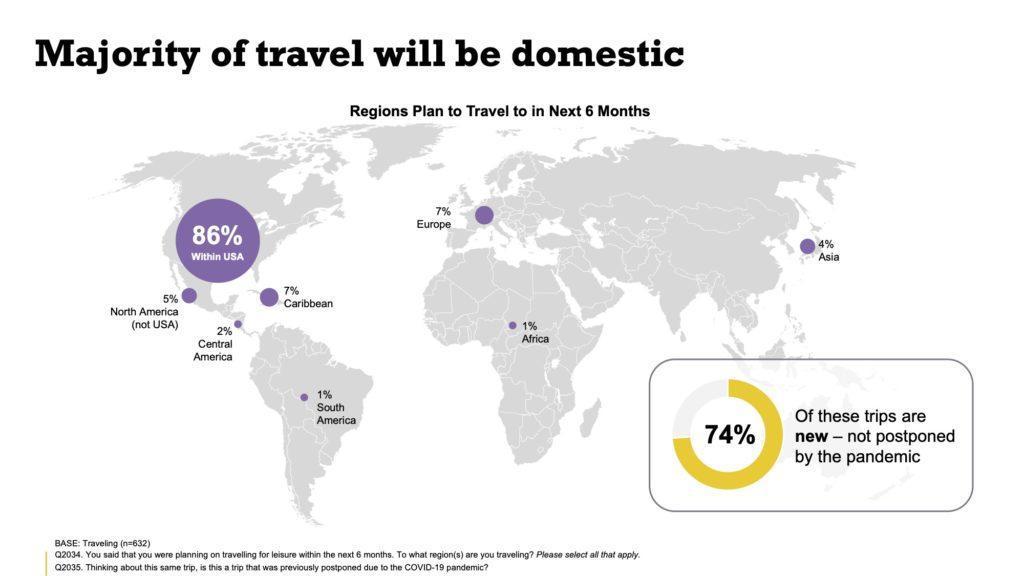 Labor Shortage Will Impact the Future of Travel
Before we look at the future of travel, we must first understand the current travel landscape and affecting factors. Travel remains the hardest hit industry from Covid, with an uneven recovery across domestic leisure travel, domestic business travel, and international travel. While Covid concerns are declining, economic factors – inflation, labor shortages, and gas prices – are on the rise, which will greatly impact the industry.
Erik Hansen, Vice President for Government Relations at the U.S. Travel Association, addressed how both airlines struggling to staff pilots and families struggling to afford gas on a summer road trip can be major deterrents in how far and often people are able to travel. People are going to travel, but will airlines, in particular, be able to deliver the supply needed without driving prices too high?
"The travel industry lost more jobs than any other sector of the economy during the pandemic, which means we have more jobs to regain than any other sector," Hansen said. "One of the challenges though, is that for every hundred jobs that we have open here in the United States, only 60 Americans are looking for work. Which means we're really going to need to look at things like immigration reform and temporary work visas in order to bring more workforce back to meet the demand…What we know is that not having enough employees will close a business or impact a business just as much as not having any customers."
Scott DeAngelo, Chief Marketing Officer at Allegiant Airlines, explained there was a pilot shortage before the pandemic that only got worse.
"We've flown more this year than last year, more last year than 2019," DeAngelo said. "We've already seen leisure travel rebound to well above 2019 levels. But we, like all airlines, aren't flying as much as we'd like, and not being able to serve as many customers as we could all collectively serve, and that's largely driven by the staffing."
But even despite heavy economic factors, people are ready to travel again. After two years in a global pandemic that forced people to stay home and cancel trips, there's a lot of pent-up demand to get out and see people and experience the world again. Our latest research shows one in four travelers right now are planning a trip that was postponed due to Covid, and over half of Americans plan to travel within the next six months, with reconnection as the biggest motivator – people want to reconnect with family and friends after years of being socially distanced. The benefits of travel are as strongly desired as ever.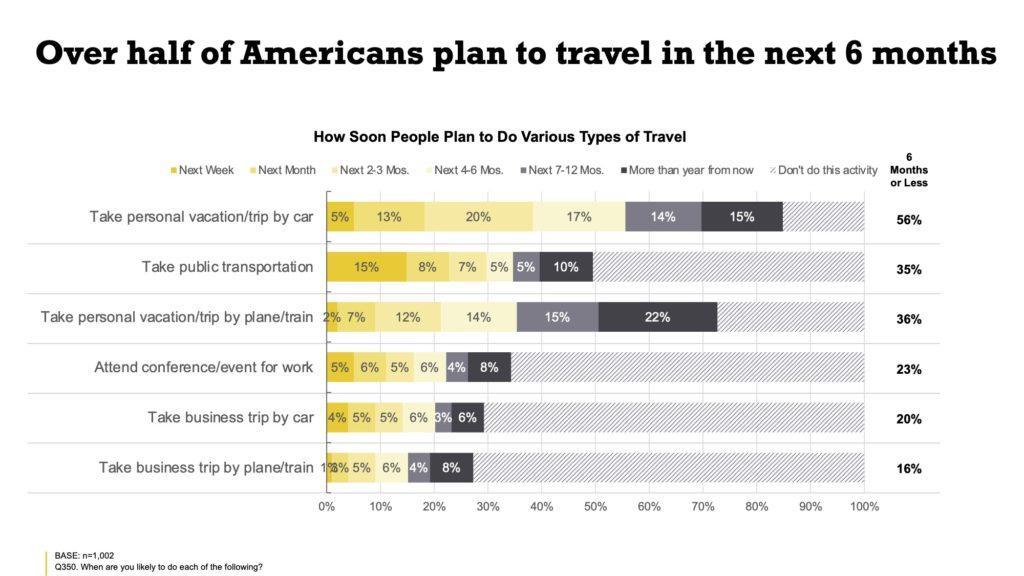 In response to inflation and the recent unexpected 1.4 percent drop in the U.S. GDP, people might tighten their wallets a little more when it comes to travel spending – more domestic instead of international travel or opting for a road trip to a national park instead of a five-star beach resort – but they're still going to travel.
"People want to get out," said James, Senior Manager of Product Insights and Strategy at Expedia Group. "We are desperate for travel. We're not going to see a slowdown in travel, but it just might be a change. You might go stay in a vacation rental, maybe not rent a car – whatever it might be to help cut down in your costs."
Related: The Future of In-Person Business Events
The End of the Travel Mask Mandate
On April 18, the federal mask mandate – which required masks in airports, on airplanes, and other public transportation – ended for the time being. Many airlines made the announcement mid-flight, effective immediately – causing a mix of celebration, concern, and confusion among passengers. How does this hot-button issue affect travel and transportation in the future?
Hansen believes the issue has been framed incorrectly from the onset. It should be an issue of choice, giving people the option to choose whether to wear a mask while also giving them the cleanest environment possible. James reiterated this point referencing cleanliness standards in travel and hospitality today that are the the highest and best ever due to changes made during the pandemic.
"If we are moving away from masks in the future, then I think we should all feel pretty confident that our hotels and our vacation rentals and our airlines do have those good standards in place and better than ever before," James said. "I think that's one of the things that's here to stay and I'm grateful for it."
RELATED: American Consumers are Shopping, Traveling and Working Out Like it's 2019 – WSJ
Another important thing to note is the effect of the mask mandate on the workforce – flight attendants and crew. DeAngelo said the mandate was an instigator of unprecedented levels of flight attendant attrition, as a divisive mandate was put in place and people who never signed up to enforce federal policy were having to enforce it.
"As soon as [the end of the mandate] was announced, the morale by flight attendants and crew members was night and day difference," DeAngelo said, explaining many may still choose to wear a mask themselves but all feel great relief from having to police the issue with passengers.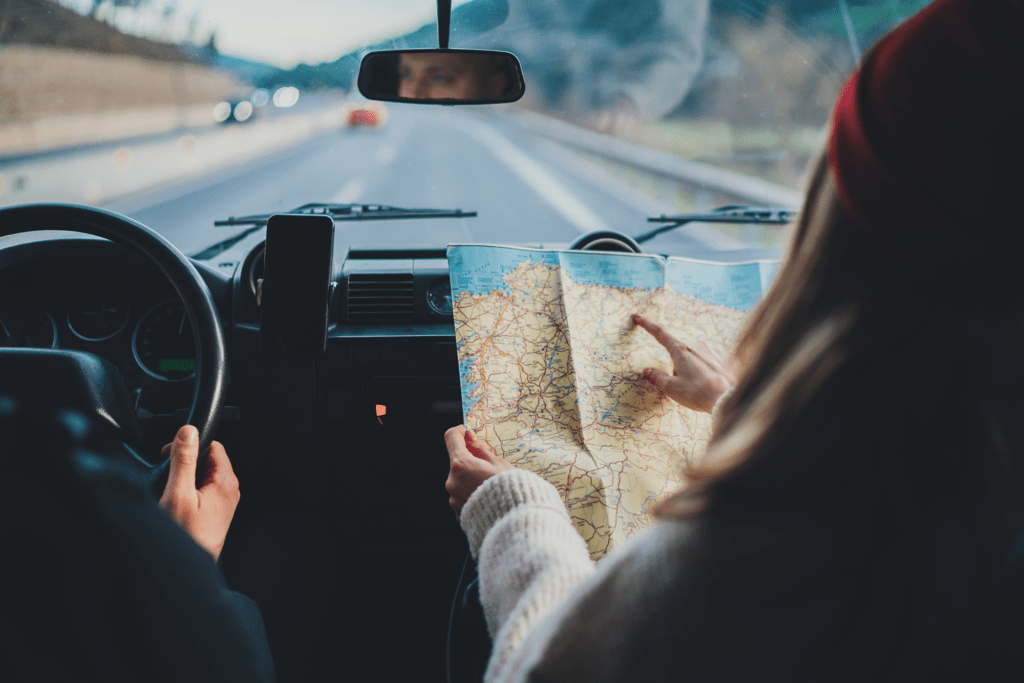 Sustainability is a Major Travel Trend In Some Unexpected Ways
All three guest speakers mentioned sustainability and consumer desire for more sustainable travel options as a key, long-term trend post-pandemic. Even though transportation is among the biggest causes of our global carbon footprint, there are sustainable options – things like electric vehicles and eco-friendly aviation fuels can make the travel industry more sustainable, reduce the impact on the environment, and keep travel moving.
"I think we've seen this shift where now sustainability is top of mind with really everyone," James said. "It's been a big topic today. As travelers start to ask for these things, they want to take more sustainable trips and they want to support more local businesses."
Expedia found that 69 percent of people want sustainable travel options, but 70 percent say that finding meaningful and credible sustainable travel options can be overwhelming. So, while people see the need and are receptive to the idea of sustainable travel, most don't know where to start when it comes to planning their own sustainable vacations.
It's important to note that while things like more electric car charging stations or reusing hotel towels can be great options for a greener earth, there are other things travelers are doing now that they see as sustainable travel as well. Visiting off-the-beaten path destinations, contributing to local economies, and experiencing the rich local culture are increasingly being seen as sustainable travel options more accessible for the average traveler, according to Expedia's research.
"We can't have this false choice between traveling and ruining the environment, or not traveling and saving the environment," Hansen said. "We can see the world and save the world at the time, and to do that, we'll need more sustainable travel."
Travel Can Help Promote Diversity and Heal Our National Division
Hansen sees travel today as a force for good, bringing people together to drive toward higher quality of life for all. Travel can be a mechanism for meaningful human connection and experiencing other cultures, which changes our perception and understanding of the world in a positive way. It can help us realize our similarities and bridge the gap of our differences.
"We've seen a world without travel, and our economy suffered, our quality of life suffered," Hansen said. "But also, as a force for good, we know that travel breaks down barriers to cultures. It helps promote diversity, equity, inclusion – when you meet someone face to face you understand the things that you have in common. It's so much more powerful than the divisive culture that we have sometimes online. Using travel as a force for good is another major trend that we need to capitalize on in the future."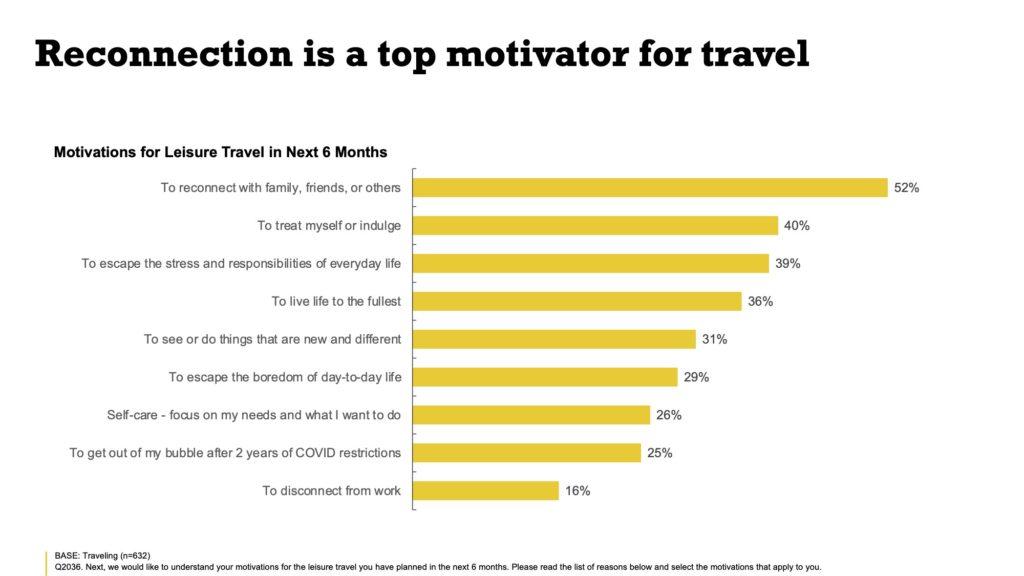 ---
Four Tips from Heart+Mind for Brands in Travel and Tourism:
Destinations, properties, and tourism-related offerings need to identify and cultivate their sustainability equities and embed them in how they talk about their respective brands. These equities may not be the primary motivators for travel, but they offer assurance and peace of mind that your brand is conscientious of your community.
The data showed that reconnection is the #1 need that travelers are pursuing. Travel connects people better than anything else – you cannot replicate that immersion within a destination and physically bringing people together through any other method. Highlight the power of (re)connection in communications and the unique ways your brand contributes to that.
Beyond facilitating connections between friends and family, also consider how your brand provides an authentic experience that connects visitors with locals and the local culture.
The economy is already impacting the formation of traveler segments, and forecasts show more turbulence to come. Make sure your audience segmentations include economic and personal financial inputs so that you can observe changes to the segments over the coming months.
---