COVID Vaccinators
Vaccine Rollout at Top Speed
In unprecedented speed the world has gone from a pandemic driven lockdown to having highly effective vaccines in the market, with almost 100 million vaccinated in the U.S. Early concerns with some of the vaccines, emerging virus variants, and new surges in cases in parts of the world have frustrated the global view even as the U.S. has made significant progress. However, as the vaccine supply in the US may soon surpass demand, the challenge we face is how to persuade and motivate those yet to be vaccinated to make the appointment and get their shot.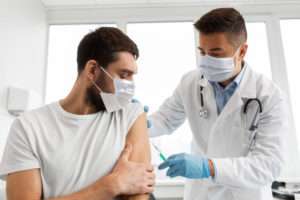 The stakes are high for all Americans on the success of the vaccine roll-out. The messages and communications related to the COVID-19 vaccine are critical as we all anticipate the lifting of restrictions and moving forward with living our lives.
We can learn from countries that seem to have hit the perfect balance of communication strategies and messaging during the crisis. New Zealand is one country that stands out from all others on how they are handling the pandemic, with a primary focus on their community, being united as a country, and using a human-centered approach to their message.
RELATED: The Guardian – Words Matter: How New Zealand's Clear Messaging Helped Beat COVID
3 Types of Vaccinators
Heart+Mind Strategies has been privileged to work with several clients who are tackling this challenge for their residents, employees, and members. Through our proprietary values-based research methodology, we have identified several motivating functional and emotional drivers behind the acceptance of the COVID-19 vaccine.
RELATED: The Truth About COVID-19 Vaccines from Industry Insiders
In our most recent work with AARP in their efforts to educate consumers about vaccines, we have discovered that the primary underlying driver is a desire for Protection. But protection can be applied in many areas of our lives: protecting our family, friends, community, ourselves, our property, and protecting our freedom. For the decision on getting vaccinated, the concept of Protection is manifested in three distinct manners, each presenting unique segments for states, non-profits, companies, and other organizations to use in message to encourage vaccination:
#1 Protect My Community (42%): The largest group, this segment of Americans is most concerned with protecting those around them. Their motivation to get the vaccine is not focused as much on themselves as on their family, friends, and community. In this group, we did find some who are highly motivated to get the vaccine, but a good portion are more moderate or unsure about whether they will get the vaccine or not. In protecting communities and loved ones, this segment seeks to benefit from the ability to share worry free quality time together, creating a sense of security and peace of mind.
#2 Protect My Health (32%): Those focused on their own health protection are the group most motivated and most likely to get the COVID-19 vaccine today. This segment skews older and is the most likely to have already been vaccinated. This segment doesn't need a lot of push to get the vaccine. For them, vaccination is about the peace of mind that comes from protecting their health and returning to the people, experiences, and things and that matter most in their lives.
#3 Protect My Choice (26%): This segment includes a good portion of the 'fence sitters' – those who have not decided whether or not to get the COVID-19 vaccine. They are worried about the loss of choice when it comes to the vaccine, yet they are motivated by the idea of being able to spend time with family and friends, and seeing small business reopen. This segment is driven by personal choice, and a need to feel in control of their life. When they experience this, they feel content, and free, tapping into a sense of freedom and peace of mind.
Motivating America to Vaccinate
Understanding how to embed a values component in communicating with the public about the benefits of getting the COVID-19 vaccine can make a meaningful difference in influencing their behavior. The Protect My Community, Protect My Health and Protect My Choice segments can be rationally persuaded and emotionally motivated by tapping into the unique benefits and values they seek as a result of being vaccinated.
We recommend an overarching theme of "protection" that enables the human choice to be part of the solution while respecting the personal liberty to choose. Protecting our families and communities is how Americans can be motivated to work together to bring an end to this pandemic and enjoy the peace of mind, freedom and security that comes with herd immunity.