By Mike Dabadie
"You came knockin' on my heart's door,
You're everything I've been looking for."

Lyrics from Looking for Love in All the Wrong Places, by Johnny Lee
In 1980, Johnny Lee released the hit song Looking for Love in All the Wrong Places. The lyrics are about changing where you look for love — opening your eyes, your mind, and your heart to what's possible.
Many companies and big name brands are also looking in new places for something these days – growth. And not just any kind of growth, but profitable business growth. Remember Netflix's password crackdown? Look at Microsoft's new AI products, or the new X (formerly known as Twitter). These are examples of companies looking to find growth through customers, brand strategy, process mapping, or innovation.
What dominant business growth strategies and theories should you consider for your business? Here are some popular choices:
Balanced Scorecard + Objectives and Key Results (OKR): These frameworks set the stage for strategic planning. They help in establishing a clear vision, strategic objectives, and key measurable results which will serve as the guide for the whole growth process.
Porter's Five Forces: Next, understanding the competitive environment is crucial. Porter's Five Forces model helps you understand the industry structure and the competitive forces you're up against, informing your subsequent strategic decisions.
Three Horizons Planning + Driving Profitable Growth: These planning tools are is essential to analyze your current product portfolio and decide where to focus your efforts now and over future horizons. It identifies the "'cash cows"' that generate strong revenue and the "'stars"' that represent future profitable growth engines so you can concentrate on profits.
Greiner's Growth Model: Finally, as you implement your strategy and your business starts to grow, this model can help you anticipate the challenges that typically arise at different stages of growth and proactively address them.
Related: A Comprehensive Guide for B2B and B2C Business Leaders
The Heart+Mind Way: Championing the Human for Growth
These are all proven models for growth planning. But each will be amplified considerably through compelling insights that make people the focal point for growth planning. At Heart+Mind we call this "championing the human".
How does a company champion the human to deliver profitable growth? Incorporate human insights through audience research, both qualitative and quantitative. This is critical in all stages of business growth strategy development. Here are examples of how you can use this research with the business models and innovation process:
Understanding Your Position and Setting Goals: You could conduct surveys and interviews with employees and customers to understand their perspectives on the company's strengths, weaknesses, and opportunities. This can inform the setting of OKRs and the development of a balanced scorecard.
Reframe + Develop Hypothesis for Testing:. Start Early with Planning. Who is the audience? What markets? How do we affect behavior? Will the activation plan align with hypothesis for testing? Start with how you expect to grow and activate then align your insights plan based on informing the way to market.
Evaluating the Market + Competitive Environment: Use quantitative surveys to segment on values, needs, preferences, purchasing habits, and attitudes towards your company and competitors. Use qualitative research methods to personify and dive deeper into consumer perceptions and behaviors.
Deciding on the Growth Path: Conduct strategic insights and research to identify opportunities for market penetration, market development, product development, or diversification. For example, if interviews with customers reveal a need that's not being met by current products, this could suggest an opportunity for product development. Use MaxDiff to assess demand curves.
Creating + Delivering Value: Use qualitative methods, like in-depth interviews or ethnographic research, to understand customer needs and 'jobs to be done.' Surveys can quantify the importance of different jobs or features. Conduct framing interviews or user testing sessions to gather feedback on a minimum viable product. Do this in human-to-human interaction, with AI, or A/B online testing.
Differentiating from Competitors: Conduct research to identify customer needs that aren't being met by current market offerings. Interviews can also provide deep insights into customer frustrations with competitors and opportunities for differentiation.
Pricing Your Products: Van Westendorp can help you understand how much customers are willing to pay for your product or service, and price elasticity. Qualitative interviews can help uncover the reasoning behind these pricing preferences.
Monitoring and Optimizing: As you implement your growth strategy, continue to gather feedback from customers and employees. Surveys can track customer satisfaction, Net Promoter Score (NPS), and other key metrics over time. Interviews can provide more nuanced understanding of these trends and inform your response to any crises or challenges that arise, as outlined in Greiner's Growth Model.
These models can then inform an innovation strategy and process.
At Heart+Mind, innovation does not have to mean something so "far out" that it becomes difficult to execute. In fact, more profitable growth innovation can come from optimizing existing products for existing customers. This approach involves continuous mastery and improvement of known "knowns," and can be rapidly deployed. It is also a great approach that AI models can use to help you innovate and grow.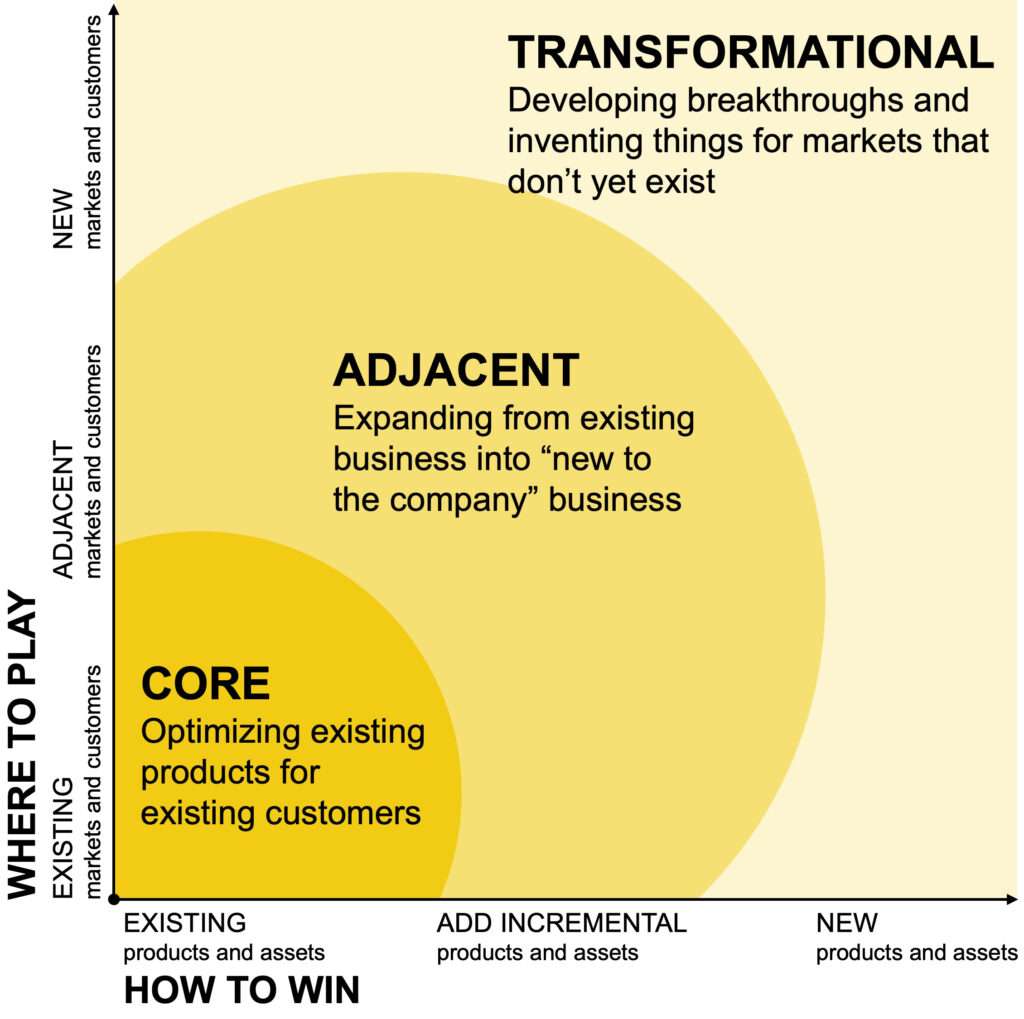 Source: Roger Martin
Once you have ideas plotted on where to play and how to win, we take you through our 4-phase innovation process, using custom research and strategy based on our unique human-centric point-of-view.

These approaches are proven to help find growth in all the right places. Heart+Mind helps you champion the human to find the optimal growth strategy when you are at the crossroads of choice. Reach out to Heart+Mind Strategies for creative and actionable ways to champion the human in the strategies you create.