By Dee Allsop, Ph.D.
We live in a time when we are more clearly focusing on and trying to remedy attainment gaps in society. Enrollment in higher education for low-income, first generation students, and students of color is one of the critical pathways to close those gaps. Unfortunately, the pandemic has had a devastating effect on the post-secondary plans of 2020 and 2021 graduating high school seniors. Working with the Strada Education Network, Heart+Mind Strategies has been able to examine the extent of the disruption and its consequences as well as explore some of the potential solutions. This brief draws on those findings.
Disrupted Path to Higher Education
The pandemic disrupted a little over one-third (36%) of 2020 and 2021 high school graduates who had plans to continue their education but ended up changing those plans. Many of those in the class of 2020 were taking all the right steps leading up to college and 40% of them had even received an acceptance letter only to have their plans and dreams fade right in front of them. A year later, 2021 high school seniors who had been planning on college during their high school years had already begun to undo those plans—fewer of them taking any of the critical steps to attend college such as touring campuses or applying.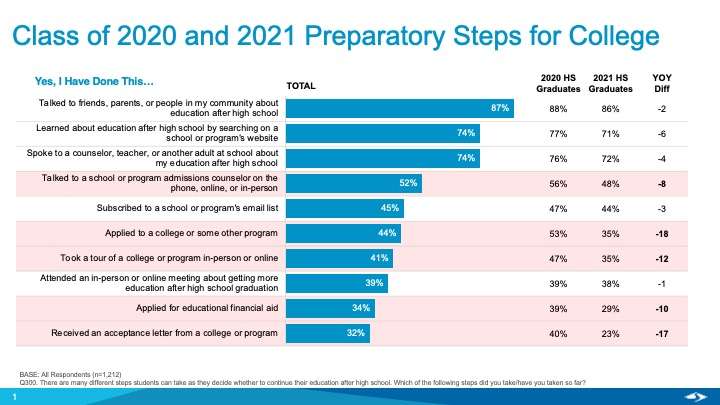 Health concerns and additional financial pressures caused by the pandemic were major factors driving decisions not to pursue higher education, but the main driver was the pure anxiety and stress of being cut off from social life and a world full of uncertainty.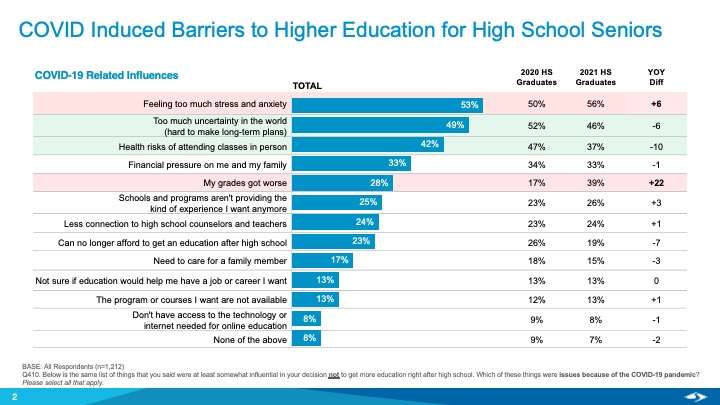 In Their Own Words
Comments from these high school graduates tell their devastating tale:
I would summarize it as really a negative, because it definitely changed my life a lot, and cut off every social thing that I was doing at the time. Cut out a lot of physical things that I was doing at the time, and I didn't leave the house as much, I didn't do as much… And I lost a bunch of friends because of COVID-19 too. – Tesahe T., Male, African American, 2021 Graduate
It was definitely rough being stuck at home for about a year. I'm a very social guy so it was very hard to be social during COVID-19 because you didn't see anybody. – Bennett S., Male, White, 2021 Graduate
The pandemic affected my life by going from being social and out and about, and now I'm in my room for most of my days. – Destiny S., Female, Hispanic, 2020 Graduate, First Generation
I kind of thought to myself, "what am I really going to get from this?" Because I knew a couple of people who had graduated in 2020 and they immediately went to university, and it was a very bad decision. They dormed on campus and all of their classes were online. So, I don't know why they dormed on campus, but they failed all of their classes online. And now they're about 60 grand in the hole. – Olivia K., Female, White, 2021 Graduate, First Generation
RELATED: Four-Year College Degrees: Are They Still Relevant?
3 Key Steps to Getting Back on the Higher Education Path
Despite the barriers and disruption, most of these high school graduates plan to return to their higher education plans, but those plans have changed significantly for many. About a third (35%) plan on a less expensive higher education option than they were planning before the pandemic or attending a college or program that is much closer to home (31%).
Additionally, these seniors also identify three key steps that will help them get back on the path to their higher education dreams:
EDUCATION ADVISOR: An advisor to help sort through their thinking on a career path, financial aid, and choosing classes;
FLEXIBLE LEARNING OPTIONS: Options that allow them to get an education while working and earning money; and
FINANCIAL AID: Easier processes to get financial aid.
Thanks to the good work of the Strada Education Network, this and other more detailed information is being used by higher education institutions around the country to understand the nature, scale, and range of solutions to the pandemic's disruption in the lives of the next generation—helping them reconnect with their higher education dreams.
---
ABOUT THE AUTHOR
Dee Allsop is the Co-CEO and a Founding Partner of Heart+Mind Strategies. Throughout his extensive career Dee has provided market positioning and communications strategies for some of the worlds' largest companies and organizations.
His broad expertise includes advertising strategy development, crisis communications, values-based marketing, ingredient branding, new product launches, brand line extensions, issues marketing, political campaigns, employee research, customer satisfaction, tracking studies, concept testing, brand essence research, brand critical standards, event marketing, sponsorship, logo and naming strategies, and corporate reputation.
Dee has received two David Ogilvy awards from the Advertising Research Foundation, recognizing his work in developing communications strategy.  In 2000, he was honored as "Pollster of the Year" by the American Association of Political Consultants.