By Carol Gstalder
Threats to College and University Reputation
The expectations of what post-high school education looks like is shifting and changing in unprecedented ways. Access, cost, and value; the gap between the requirements to earn a degree and the actual skills and competencies that a job requires; online vs. traditional classroom settings — it's an evolving, dynamic, and complex set of stakeholder expectations shaping the reputation of the higher education industry today.
Perhaps we've taken the reputations of long-standing universities and the traditional role of college for granted, until more recently when these various pressures that they have been facing were brought to the forefront and fully exposed during the course of the pandemic.
Higher education is at an inflection point, one that requires focus on fully evaluating who today's stakeholders are, what they expect and care about, and how universities will be able to meet these evolving performance expectations and continue to thrive.
Who will own the narrative of the future of higher education and how will it be shaped? How will traditional universities respond to these reputational challenges? What strategies and actions should universities put forth to build their brands and to understand, foster and deepen the relationships that matter most to their future success?
RELATED: 4 Strategies to Make Higher Education More Effective
College and University Reputation Health Assessment
Here are some questions that universities and colleges should ask themselves, as they proactively seek to manage their reputation amidst shifting expectations:
What are our reputational risks?
Who are our stakeholders and what are their needs and expectations?
What cultural and market forces are at play?
How are we performing against stakeholder expectations?
What are our opportunities to enhance our reputation?
What is our plan to address future risk?
How will we activate an improvement plan?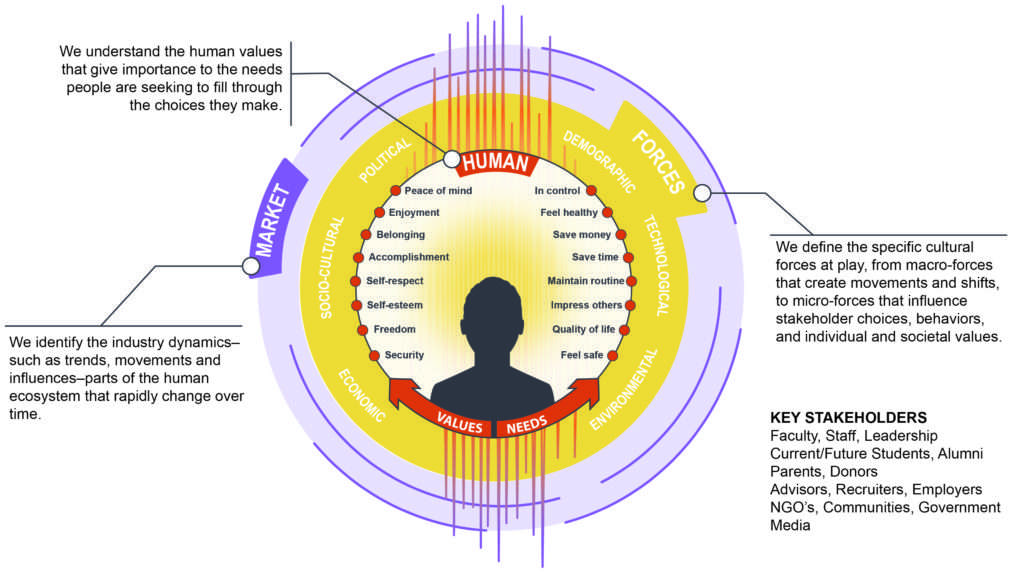 Reputation is one of the most important assets an organization has. If higher education can fully understand the shifting stakeholder expectations and forces at play, it can begin to develop an effective strategy for rebuilding trust, and it can more effectively position itself for the future.
---
ABOUT THE AUTHOR
Carol Gstalder is a Senior Solutions Consultant at Heart+Mind Strategies. She is a respected advisor and collaborative partner to global corporations, industry groups, and non-profits on issues and crisis management, corporate strategy, branding, communications effectiveness, reputation management, talent engagement, and content creation for thought leadership programs.
For the past 30 years, Carol has created value for corporate and organizational leaders through purposeful management of company reputation and brand image, knowledgeable understanding of the marketplace's needs, and strategic management of customer relationships. She is a recognized thought leader in brand and reputation management. She draws on her experience in maximizing brand equity and reducing reputational risk to drive business outcomes for clients.
A frequent speaker on corporate strategy, reputation management, sustainability and corporate responsibility, more recent events have included The White House United State of Women Conference, The Holmes Conference, CECP, and Nielsen's Sustainability Imperative. Carol's expertise on public opinion is regularly quoted across global publications.